How prepared are you for the unexpected?
How prepared are you for the unexpected? 


In a recent article published to REDnews, figures reveal that around 50% of people are one life event away from becoming financially vulnerable. So, how prepared are you for the unexpected?

The chief executive of Melbourne's Thriving Communities Partnership (TCP), Ciara Sterling, cited a University of New South Wales study that also reveals that 13% of people are experiencing severe financial stress. These people struggle to pay bills, afford food, and cover medical treatment. While this is an Australian organisation, Sterling said that the social issues and poverty that Australians faced were similar to New Zealander's.

So how do you get help and access tools that help you carefully plan for your future retirement?

Exclusive MySuper Planner available to you

MySuper Planner is an online financial planning tool available exclusively to In-Tandem members. Did you know that you can use this tool to see how various market conditions can impact your future savings – up or down (stress test)?

After you adjust details such as how much you contribute, your ideal retirement age, and investment option, you can enable the 'stress test' feature and see the impact how your projected balance changes based on the market conditions.

Based on the criteria entered, this projection shows a total account balance of $228,000 and expected to last until age 86.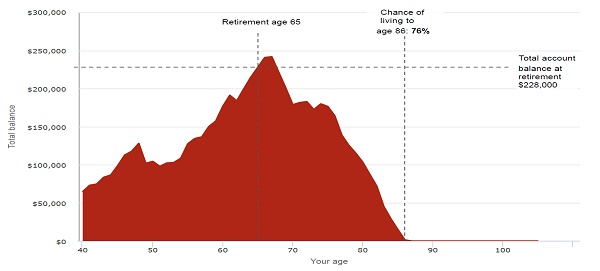 By changing the market conditions after clicking 'refresh', using the same savings information, other market conditions may produce a total account balance of $323,000 that lasts until age 95.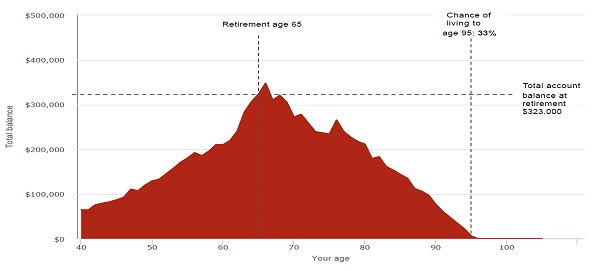 Using this tool can help you understand what your future balance may look like, and how changes to markets, or your savings strategy, can have an impact (up or down) in the long-term. 

Other features of MySuper Planner include:   
Your current savings balance;
Your future retirement savings balance (estimate)
Your annual income when you retire (estimate)
How long your retirement savings may last
Effect on your future savings of changing your contribution rate, retirement date, or salary
Export your PDF report by email
Access MySuper Planner online once you have logged in to westpacnzstaffsuper.co.nz
Taking a financial health check
During these uncertain times, it is a great opportunity to give your finances a 'health check' to make sure you're getting the most from your money.

1. Make financial goals: Write out some money goals for the next 6 months, year and even 3 years. It can feel a bit daunting thinking ahead, but having goals written out, tailored to your situation will help you feel more stable and have a purpose to work toward. You can feel assured that historically, economies have bounced back after periods of increased volatility. In addition to the MySuper Planner, Sorted.org has some great tools to help you create and stick to budgets.

2. Check your debt: If you're struggling to pay back debt such as credit card payments, loans or car repayments it's time to make a plan to tackle your current debt. Discussing your options with a Westpac financial advisor can also help (0800 942 822).

3. Review your expenses: Ongoing costs on utilities such as electricity, phone, internet and water can stack up and you want to make sure you're getting the best deal possible. When was the last time you visited an online comparison website to see what different companies offer? You may save just by switching to a different provider.

4. Check your investment option: Are you in the investment option that matches your personal savings goals and life stage? You can use MySuper Planner to help you see what the impact of changing investment options may have over the long-term.

5. Review or update your Will and insurances: Personal situations can change drastically at any moment and it's important to have an up-to-date Will and insurance policy(ies). It can give you peace of mind knowing what you're covered for by your insurance providers, and what your wishes are should you pass away unexpectedly.

6. Look at your spending habits: How much are you saving, or putting away for a 'rainy day'? Is there room to put aside a little bit each week? This will slowly build up and be available should you need it for an unexpected large expense.
This information has been prepared by Mercer (N.Z.) Limited for general information only. The information does not take into account your personal objectives, financial situation or needs.This information has been prepared by Mercer (N.Z.) Limited for general information only. The information does not take into account your personal objectives, financial situation or needs.